Our Glendale dental staff is composed of long-term, highly skilled professionals dedicated to providing you with the best in patient care. From your first communication with us, you will experience our commitment to one on one, personal attention. This extends beyond your visit with us, as we will follow-up with you to ensure you are satisfied with us and your dental work.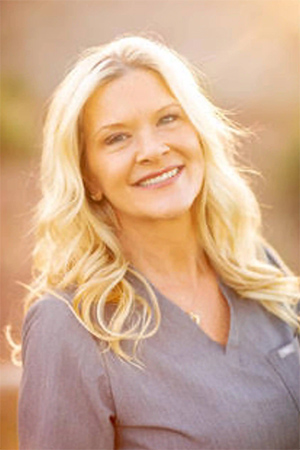 Dr. Leigh-Ann Schuerman
Dr. Leigh-Ann Schuerman graduated from Southern Illinois University in 1996 and relocated to Arizona. She has been practicing dentistry for more than 25 years. While Dr. Schuerman enjoys all aspects of dentistry, she has extensive training in cosmetics, orthodontics and sedation dentistry. In 2008, she joined Midwestern University School of Dental Medicine as an Associate Professor and Clinical Care Director. She was later promoted to develop and direct the Pediatric and Special Needs Clinic and remained in that role until 2017. At that time, she changed her educational focus overseas and became involved with The University of Technology - Oral Health Sciences program in Kingston, Jamaica. Dr. Schuerman still today continues her passion for helping those less fortunate.
In addition to her role in education and general practice, she is also a consultant for county, state, national, and international dentistry. Her role with the Arizona State Board of Dental Examiners (AzBODEX) involves evaluations of current dentists applying for Oral Conscious Sedation permits. She is a consultant for a national and international dental licensing examinations, The Commission of Dental Competency Assessment (CDCA), and lectures regarding pediatric and adult oral conscious, as well as, adult intravenous sedation throughout the United States. Dr. Schuerman has completed a fellowship in forensic odontology at the University of Texas in San Antonio and currently consults with both Maricopa and Pinal County while simultaneously working towards board certification.
In her spare time, she enjoys hiking, yoga, watching football, golfing, and traveling.
---

Kim
Dental Assistant
Hello, I'm Kim! I have been a dental assistant since 1978. I believe that all the patients and people I've worked with have helped shape the person I am today. I have been with Desert Smiles since 1993 and have loved every minute because I love our patients and the people I work and worked with. I also love dentistry. I am so blessed.
I am fortunate to have two boys, who are great joys in my life, and a beautiful daughter in law. My husband and I have recently found a love for riding bikes and exploring all the bike trails the valley has to offer. I love hiking when the weather permits. When I'm not riding bikes, I love to read. I take care of my son's dog Steve (an English bulldog pit mix) who I just adore and love. I love all things natural in the health world and eat as healthy and organic as I can.
---

Olivia
Dental Assistant
Hi, I'm Olivia. I'm a dental assistant here at Desert Smiles and a mom of four at home! I love working in the dental field. It's so rewarding to witness the joy of our patients as they watch their smiles transform.
Outside of work, I have many interests. As a family, we do a number of outdoor activities, such as camping, hiking and exploring, and swimming in the lakes and rivers our beautiful state has to offer. I absolutely love food! Whether it's cooking at home or trying a new restaurant. I have an appreciation for all genres of music and am usually either listening, dancing, or singing along!
---

Kellie
Dental Hygienist
Hi, I'm Kellie! I have been practicing dental hygiene since 2002, and have had the privilege of working at Desert Smiles since 2012. My favorite part of my work is being able to establish close relationships with my patients. You become like family to me and I am always excited to see you and hear what is new.
My husband and I have three children and three dogs. Together, we love to travel and spend as much time outdoors as possible. I also enjoy cooking and watching the Travel and Cooking Channel. Reading a good book is also a great luxury to me!
---

Rachel
Dental Hygienist
Hi, I'm Rachel! I have been in the dental field for more than 20 years. I transitioned from dental assistant to dental hygienist after graduating from Rio Salado College in 2015. I am passionate about helping my patients maintain optimal oral health, and am very fortunate to do so alongside such an amazing team!
I am an Arizona native and love to spend time in the great outdoors with my husband. Whether we're in our truck off-roading in the mountains, camping on the rim, or riding the desert trails on our dirt bikes, we always enjoy exploring this beautiful state.
---

Carrie
Office Manager
Hi! I'm Carrie, the office manager at Desert Smiles. I have been in the dental industry for more than 25 years and I am so happy to call Desert Smiles my work home. I'm looking forward to having you as part of our Desert Smiles family and hope you'll be as happy as I am here.
I moved to the Phoenix area ten years ago because I wanted more warmth and sunshine (boy does AZ have that) and love all the outdoor opportunities it provides. Like so many others here, I enjoy finding new hiking trails to explore and take in all the AZ beauty. If you can't find me at the office, I'm most likely to be traveling with my husband (we love Rocky Point and Flagstaff), searching for delicious food, or lounging at the pool with a good book.
---

Amy
Hi, I'm Amy. I love being married to Dr. Tenney and we are so grateful for your trust in us. I grew up in Boise, ID and graduated from Brigham Young University. I am a yoga and meditation instructor. I love practicing and teaching yoga and meditation and all the benefits they offer. Dr. Tenney and I have two daughters and a son; you may find them running down the hall at the office from time to time as they love visiting him at work. I love cooking and creating healthy recipes, and sharing my joy of health and healing with others. My faith in God is a deep anchor for me. My favorite place to be is outdoors! I love waterskiing, hiking, exploring new places and foods, walking our dog Finn, and playing family games. From our family to yours, welcome to Desert Smiles!