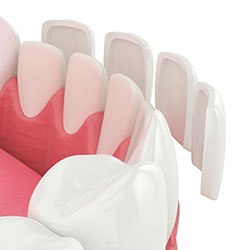 Porcelain veneers are one of the most versatile and effective of all cosmetic dentistry treatments. Placed over the front of teeth, veneers cover imperfections and minor damage to create a smile that is straight, bright, and strong.
If there are issues with your smile that have left you feeling less confident or attractive, Glendale cosmetic dentist Dr. Nathan Tenney welcomes an opportunity to meet with you and discuss your concerns – and to help you determine if porcelain veneers are the best treatment for your specific needs.
If you live in Glendale, Phoenix, Scottsdale, or surrounding areas of Arizona and are unhappy with your smile, please call Desert Smiles to schedule your porcelain veneers consultation with Dr. Tenney.
How do I care for my porcelain veneers?
Proper care, including daily brushing and biannual visits to our office, will be necessary to ensure the longevity of your porcelain veneers, but this can often be accomplished without altering or adding additional and time-consuming steps to your daily oral hygiene routine.
To extend the life expectancy of your veneers and to prevent decay from forming undeath your restorations, it is important to brush after every meal, when you wake, and before you go to bed at night. Flossing should accompany your morning and nighttime brushing. Be sure to use a non-abrasive toothpaste and a soft-bristled toothbrush to prevent damaging veneers – particularly if you have a thinner option such as a DURAthin Veneers or Lumineers. Mouthwash containing strong astringents like alcohol should also be avoided to help prevent damage to the bonding resin that holds veneers in place.
Dr. Tenney will cover individual care instructions and examine your veneers for damage during your regularly scheduled cleanings and examinations.